Sizing and Framing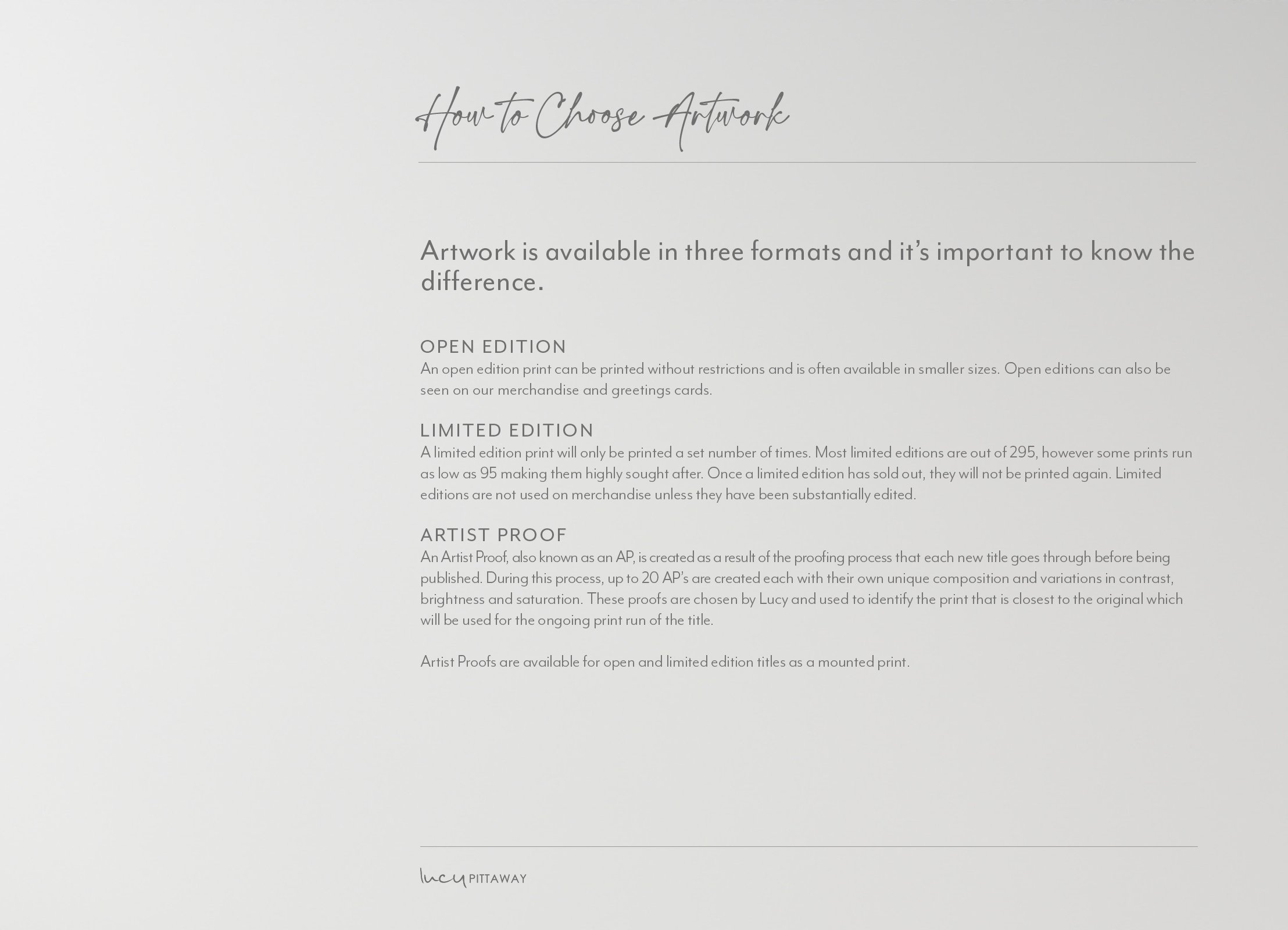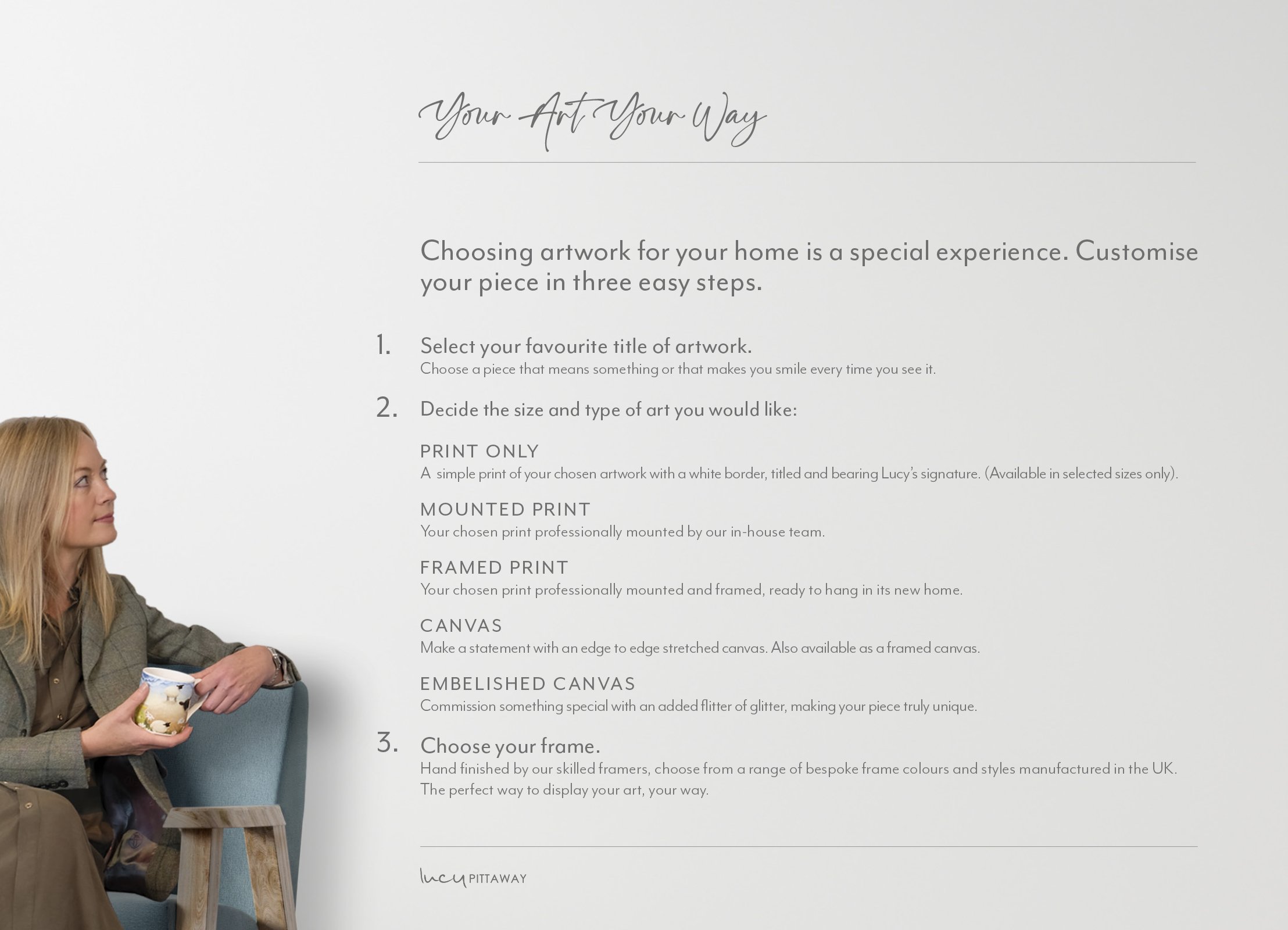 Frames Available Online
A carefully chosen piece of art will make a statement in any room, particularly when it's framed. We're proud to offer a wide choice of framing options to complement your chosen artwork that fits with your interior décor and colour scheme. For online orders, we offer a selection of our most popular frames, plus we have many more styles available to order from the galleries. If there is a particular frame you would like that is not available online, please get in touch.
The frames shown on this website are an artist's best impression of the frames we use and therefore there may be slight colour and size differences to those shown. As a general guide, the frames seen here are approximately one inch wide by 1 inch deep.
Choosing the Right Frame
It's also important to remember that there is a difference between the size of the artwork you choose, and the finished size it will be once it is mounted or framed. When looking at each product, you can view the size guide that details the full size guide for that piece.

Choosing the Right Size
It's important to choose the right size for your artwork so it suits the room in which it will be displayed. If the piece is too small, it won't have the impact you want, and if it's too large, it will overpower the room. For this reason, we offer a range of sizes to suit all spaces from small home offices to vast spaces in large residences and everything in between.
To help you choose the right sized artwork, the image below shows our 'King of the Mountain' artwork in a 10 inch, 15 inch, 18 inch and 26 inch print, which has been mounted and framed.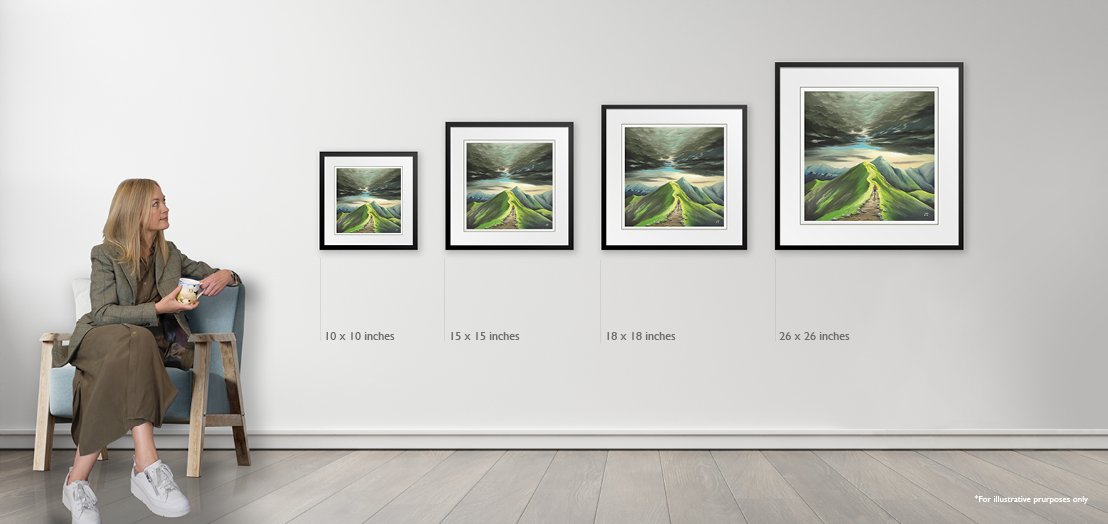 Bespoke Handcrafted Frames
We only use quality materials for our frames and work with our skilled in-house framing department to produce and frame your artwork. This team have decades of experience and are specialists in their field. All our frames are handmade in the UK and are tailor made to suit our range of artwork sizes.
If you're looking for something a bit different, we are also able to source alternative frame options. This may add to the lead time and final price of your order as the prices on alternative frames are quoted on a case by case basis.
If you have any questions about framing please get in touch via the Contact Us page and we will be happy to help.